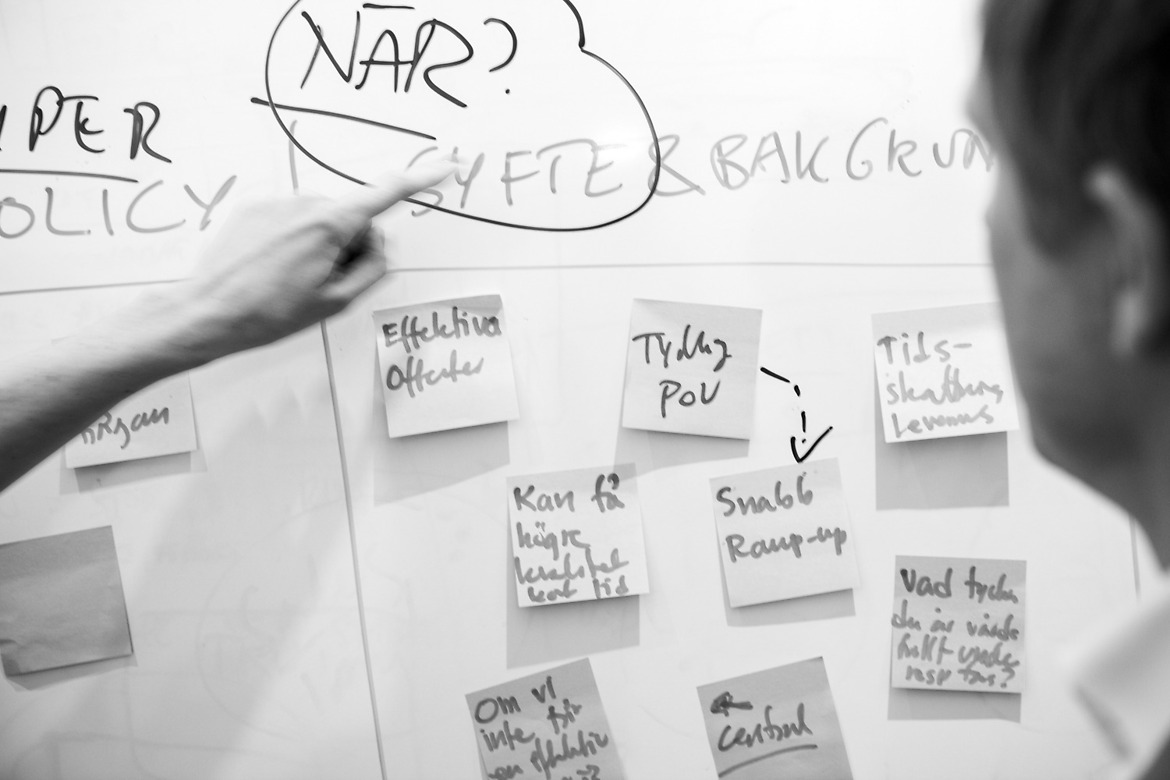 It's a brave new world.
Today's business environment, with multiple transformation triggers and continuous change at a higher speed than ever before, puts increasingly high demands on business leaders to understand the consequences for their business, grasp the new opportunities, and transform their businesses to keep ahead of competition.
Major trends like globalization, digitalization and consumerization of IT, together with the slowdown in Western economies; increased competition from Asian players; significant technology shifts within e.g. manufacturing, transportation, energy and communications as well as new requirements from the Millennial generation and an ever increasing focus on improved sustainability, rapidly changes the world in a way never seen before. Disruptive innovation is needed to identify and capture new growth areas as the traditional businesses are being retired.
Agility and continuous innovation
When several of these triggers occur at the same time, it becomes very complex for leaders to point out a clear long-term direction and to act on it. Organizations instead need to build capabilities to manage the fast changes in an iterative and agile way, driving continuous innovation and always challenge their current business.
In a recent Forbes report, "Business Transformation and the Corporate Agenda", 93 percent of the more than 900 respondents surveyed say that they have just completed, are planning or are in the midst of a business transformation.
But just because everyone agrees business transformation is important, doesn't mean everyone knows how to do it. According to another Forbes report, "Making the Change: Planning, Executing and Measuring Successful Business Transformation", 48 percent of 534 global executives believed their organization is only somewhat or not at all prepared to successfully execute a business transformation today.
Is it about Change Management? Not just!
Change vs transformation
We think that one reason for companies' failure in business transformation is the confusion between what constitutes "change" versus "transformation". Many managers don't realize that the two are not the same. And while we've actually come a long way in learning how to manage change, we continue to struggle with transformation.
In our view, "change management" means implementing finite initiatives, which may or may not cut across the organization. The focus is on executing a well-defined shift in the way things work. It's not easy, but there are a number of well-defined methods and tons of experiences about what to do.
Customer case – change
For instance, one of our clients merged their sales organizations into one common sales organization for the whole group. There were shifts in roles, client coverage, goal setting, process and measures – changes affecting many people. By applying well-known change management principles and tools – such as describing the wanted position, building the case for change, engaging stakeholders, executing with discipline etc – the new sales approach was implemented successfully, and generated improved results.
There are many other similar change initiatives, introducing new ways of working, improving process efficiency, moving from one IT supplier to another or introducing new services to the market. All these initiatives are reasonably well-defined and the change management work is focused on execution.
Business transformation is something else.
"Business transformation implies fundamental and complex organizational changes within as well as across companies alongside the value chain; business transformation can also radically alter the company's relations with the wider economic and societal environment." (Business Transformation Academy)
Unlike change management, business transformation doesn't focus on a few discrete, well-defined shifts, but rather on a portfolio of initiatives which are interdependent or intersecting. More importantly, the overall goal of transformation is not just to execute a defined change, but to reinvent the organization and discover a new or revised business model based on a vision for the future. It's much more unpredictable, flexible iterative, and experimental – and it entails much higher risk. And even if successful change management leads to the execution of certain initiatives within the transformation portfolio, the overall transformation could still fail.
Business transformation is typically described as a more radical organizational change, often with several initiatives combined into corporate programs. Some examples are mergers and acquisitions, business carve-outs, business process or IT outsourcing, implementation of a new business model or go-to-market model, centralization or de-centralization of functions (e.g. implementation of shared services), and other changes needed to radically change the strategic direction for a company or organization.
Customer case – transformation
As an example, another one of our clients is reinventing the company in a way that affects all disciplines and dimensions of the company. Their traditional business volume is dropping fast due to new technical developments in the industry, and they are experiencing stiff competition from both traditional companies and new entrants. Their customers' willingness to pay is decreasing as they find other alternative services, and the operations cost for the old legacy systems makes it very hard to compete with new players. As a result, the CEO launched a new strategy and a long-term transformation program to change the company from its roots; improving customer experience and increase loyalty, de-centralizing the organization to speed up decisions and clarify responsibilities, significantly reducing OPEX by implementing lean processes and outsourcing non-core operations to business partners as well as increase innovation to capture new business opportunities in the fast digitalization of the business environment. The transformation also called for a change in culture and performance management to build a "can-do" attitude among the staff.
While each of these initiatives required change management disciplines, leaders also had to learn a broader set of transformational leadership capabilities, like more flexible and dynamic coordination of resources, stronger collaboration across boundaries, and communication in the midst of uncertainty. And since so many people were engaged in the changes alongside their day-to-day jobs, managers also had to figure out how prioritize and stop lower-value activities.
In doing this, most of the top managers were treading through totally uncharted territory. And while they knew that the goal was to make the company look very different, nobody knew for sure what the final outcome would be. In other words, the transformation was as much a process of discovery and experimentation as it was of execution. Success wasn't guaranteed no matter how effectively they changed the management skills.