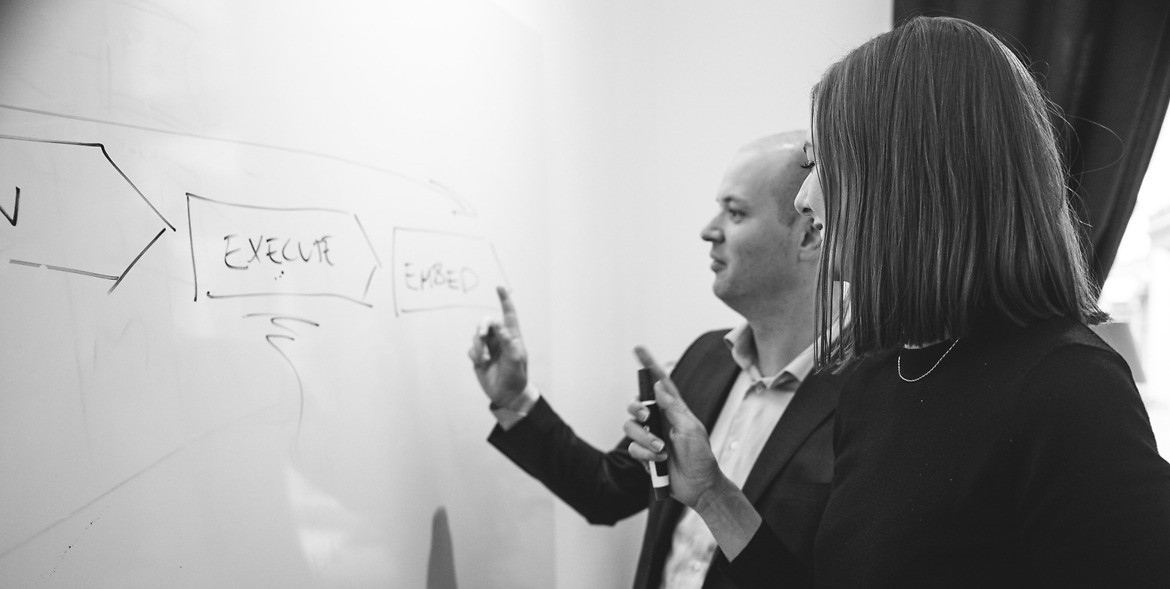 Markets across the world are booming, with stock exchange rates setting new records as a result. However, in good times the number of competitors tend to increase, making it even harder to navigate a sales function and steer for continued growth and profits.
Trying to grow in all directions at once has never been a formula for success. Instead, focus is of essence to secure a sound profit margin.
So what options does a sales function have for growth?
A successful direction for growth is highly depending on your position and market share, mix of competitors, share of revenue per customer and industry, to mention a few. To support you in setting the direction for growth, we have a list of options to evaluate!
1. Dig where you stand
Winning new customers is more expensive than selling to existing ones. In industries with repetitive sales it might be sound to focus on existing customers and known contacts. This way you can find areas for growth within your existing portfolio and well-known contacts.
Positive: This direction would require less risks (you should be aware of the resource requirements and obstacles to win additional market share among existing relationships) and insights of the potential for growth. Together these two areas will form your business plan.
Negative: Increased market share in existing contacts can jeopardize your profit margins, as you may have to reduce price to gain additional sales. This might potentially open a 'Pandora's box' with price erosion to follow.
2. Focus on the few
Many companies have a customer portfolio where a small share of the customers make up a large part of the revenue. This is also known as the Pareto principle or 80/20 rule (20% of customers generate 80% of revenue). In some industries it makes sense to identify and focus on growth of a few existing or new customers that would add to the small (20%) group. To grow one additional 'large' customer would require less effort compared to growing many small ones.
Positive: Less effort required (compared to growing the many) to identify customers and grow sales revenue.
Negative: Customer portfolio would still be unbalanced and subject to high risk, since losing a 'large' customer would have a big negative impact on revenue.
3. Grow the 'tail'
Companies with small market share, low cost of sales or those that have introduced new offerings or services may want to grow revenues from many customers, instead of the few. This would include finding new customers as well as selling additional services to already existing (yet small in share of revenue) ones.
Positive: Good approach to increase market share and minimize risk in customer portfolio, since losing a customer will not impact revenue at large.
Negative: Will require 'large' effort to attract and close deals with new customers. Hence, a low sales cost to win new customers is often a prerequisite.
4. Focus on individual offering
When a new offering or service is introduced it poses an opportunity to grow revenue in the existing customer portfolio. This would require the market and sales function to build capabilities to attract interest and sell the new offering. This strategy may also be a strong reason to why some companies are acquired by others.
Positive: securing growth in existing customer portfolio poses less risk (you know your customers already) and less effort (leverage existing relationships).
Negative: Subject to the relation between the new and existing service or offering, this strategy may cannibalize on already existing contracts. Also, price levels should be somewhat harmonized to ensure price perception is aligned between new and old services or offerings.
5. Secure balance in your customer portfolio
A company can choose to grow for other reasons than just financial. Prior to downturns, which will happen eventually, there may be a need to secure a balanced customer portfolio on beforehand. By balance we mean a sound mix between large, medium and small customers, limiting the impact if a customer decides to do business elsewhere.
Positive: Limit risk in customer portfolio in general, and especially in downturns.
Negative: Will require a somewhat mixed growth approach to grow both large and small customers along with a mix of services.
The Value of a clear direction
Our experience working with B2B sales functions across a wide variety of industries, is that few have good insights of their customer portfolio and consequently lack a sound direction. The consequence being there is no focus on which direction to grow your business; efforts and resources are spent on random activities because of historical reasons (we have always done this) instead of a clear and sound direction for future growth.
Does this sound familiar? Read our view on how to develop a sales strategy answering five questions, to set a direction for future growth. Click here!